Connecting the FIX Community
The Acceleration of the Chinese Market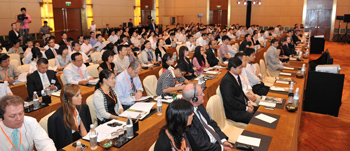 As Dr. Bai Shuo, CTO of the Shanghai Stock Exchange put it, the Chinese market resembles a leopard, as shown by its ability to accelerate at an incredible pace.
The tremendous success of this year's Face2Face China Forum clearly demonstrated the accelerated interest in electronic trading and FIX in China. With 50+ buy-side and 80+ sell-side eager to hear the perspectives and technical solutions available, more than 200 delegates packed the ballroom at the Grand Hyatt Shanghai.
Early in the day, Goldman Sachs Asia, Executive Director, Dorithy Wang, highlighted the ongoing development of QDII and QFII technology. QFII is bringing experience and technology into the Chinese market and with QDII many Chinese investors are tapping into the international market; in tandem, they will reach the vast domestic retail market and ultimately the institutions will be the greatest benefactor.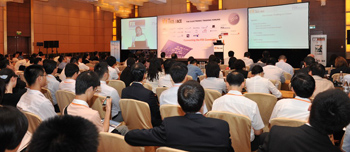 FIX as an enabler was at the core of discussions throughout the day, with numerous questions from the audience about TCA, SOR, Algos and High Frequency Trading. Gordon Morrison, Global Head of Equity Trading Analytics at HSBC enjoyed an attentive crowd as he addressed the importance of TCA and the questions it can answer, specifically for fund managers. The number of delegates who requested to view his presentation, accessible on our website, indicated the need for such educational material in this market.
To round up the day, the buy-side took the stage and aired their views about the increasing sophistication of the A-share market and how trading technology and services need to catch up through greater understanding and continued engagement with the regulator. International vendors were once again put to the test, with continued calls for collaboration with local vendors and adoption of products for the Chinese market, such as translation of interfaces. Michael Wang, Head of Trading for China International Fund Management pointed out that China is, indeed, headed in the right direction, and a combination of more sophisticated technology, improved regulation, increased efficiency and an injection of expertise from Chinese nationals returning from overseas markets, together, form the shape of the leopard, accelerating the Chinese market into the global electronic trading arena.