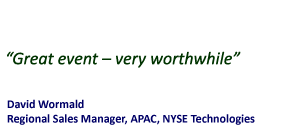 The event leverages the tremendous success of the FIXGlobal Face2Face India conference last year and it saw a record turnout of around 250 participants representing buy side, sell side traders, exchanges and solution vendors.
The Indian market remains as one of the fastest growing and most dynamic market in the region and the interests in electronic trading and the FIX Protocol have been reflected by the large amount of questions from the audience.
The day started with the more technical session then gradually moved to more business related subjects. Algorithmic Trading, DMA and exchange business, amongst others, were in the center of discussions and a range of subjects have been brought up, such as extending trading hours, competition, STP etc.
The exhibition zone also proofed to be very popular and it also facilitated dialogues between delegates and the vendors exhibited at the conference.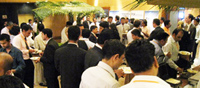 The conference ended at around 7pm and the enthusiasm of the community on FIX and electronic trading remain high as many delegates stick around to speak to the speakers and panelists presented on the day.
On a final note, the FIXGlobal Face2Face team thanked all the speakers, sponsors and delegates for enabling them to bring the market participants in India together to talk about the subjects and issues that are relevant to them, bringing value to all involved.