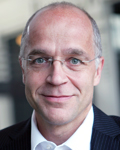 It is my pleasure to welcome you to the SWIFT Greater China Conference 2013, taking place on 10-11 July at the Intercontinental Shanghai Pudong.
This exclusive event offers a truly unique platform for financial practitioners, corporates, academic and policy makers to come together as one community and engage in a critical dialogue about the challenges and opportunities that exist across this flourishing part of the world.
We've structured these issues into three broad themes: competition - both the competition that China presents globally and the competition and challenges to growth that it faces; compliance - the distinctive characteristics of banking reform and corporate governance that exist in China today; and collaboration - the ways in which China is increasingly interconnected with the global financial system.
Come join SWIFT, the SWIFT Institute, University of California San Diego's 21st Century China Program and Fudan University's Financial Research Center in Shanghai this July to learn, to share and to network with leaders who have a stake in a successful, growing greater China.
I look forward to seeing you in Shanghai on 10 July!
Alain Raes
Chief Executive, EMEA and APAC
SWIFT
---
竞争、合规与协作:中国在国际金融中的崛起
我很高兴邀请各位参加7 月 10 日至 11 日在上海浦东洲际酒店举行的2013 年 SWIFT 中国大会。
本次盛会将提供独一无二的平台,让金融业、企业、学术界和政策制定者汇聚一堂,就繁荣发展中的中国所面临的机遇和挑战进行重要的对话。
本次会议共分三大主题:竞争 – 中国给全球带来的竞争,中国面临的竞争和增长挑战;合规 – 当今金融业改革和公司治理的显著特点;协作- 中国逐步融入全球金融体系的方式。
SWIFT、SWIFT 研究院、加利福尼亚大学圣迭戈分校二十一世纪中国项目与复旦大学金融研究中心诚邀您在今年七月与会,与关注中国成功发展的各界领袖一起学习、分享和联谊。
期待着 7 月 10 日与您在上海相见!
Alain Raes
SWIFT
欧洲、中东、非洲及亚太区首席执行官