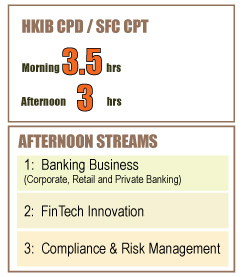 We are in a "New Normal" environment in which changes happen in a faster pace, have far reaching impacts and are less predictable. This is not just referring to the economic environment but also includes technological advancement, regulatory changes, customer behaviors, competitive landscapes etc. Financial institutions have to adopt new business and operating model preemptively to cope with these challenges.
On a macro level, Hong Kong needs to continue to innovate to maintain our competitive edge and to capture the growth potential provided by the various cross-border initiatives such as the "One Belt One Road",  Stock Connect Programmes, Fund Mutual Recognition etc. 
As clients and customers become more mobile savvy, banks have to review their digital strategies and to embrace the technological changes more rapidly.  With the global economic environment rapidly evolving, customers expect banks to offer timely products and solution to them in satisfying their business and investment needs.
All of the above shown that there is also a growing need for bank to take adaptive business models and constantly revisiting their priorities and continue to enhance their operating model.
This year's conference will look at how banks should prepare themselves for these challenges and find the new formula to obtain sustainable and resilient growth. With a main plenary session in the morning and specialized streams in the afternoon, the event is specifically tailored for mid-senior level banking professionals looking for macro views and actionable takeaways. This flagship event will attract over 600 delegates including bankers from Mainland China and Macau.
Simultaneous Interpretation (Mandarin and English) will be provided.